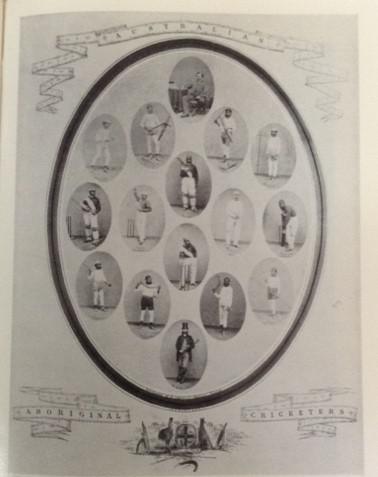 Photo collage by Peter Dawson - NMA - here
Between May and October 1868 a group of 13 cricketers, mostly from Victoria, played matches at various towns in England, including Lords Cricket Ground.
The Aboriginal team was famous for the exploits of its members, on and off the pitch. King Cole, who unfortunately became ill and died on the tour, is covered in the Grave marker of King Cole section – here. The story of Dick-a-Dick (traditional name Jungunjinuke) is famous, with his ability to use a traditional aboriginal weapon to defend himself against cricket balls thrown at him. This demonstration took place during breaks in the game. The weapon Dick-a-Dick used is kept in the Lords Cricket Ground museum. Other weapons and artefacts from the tour can be viewed at Lords Cricket Ground during the 2018 season, marking the 150th anniversary of the 1868 tour.