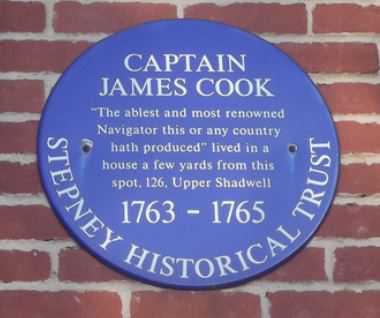 Cook was famous during his own lifetime as an explorer and man of the Enlightenment. His role in the foundation of the New World is well documented. Many other countries produced their Cook equivalent, e.g. the French explorer La Perouse. Cook's role in mapping much of the world secured his place in history – specifically in the history of settled Australia.
Many stories exist about Cook (Cook the man and Cook the myth). He played a key role in the mapping and consequently 'foundation' of Australia. Stories abound of exploration and adventure, discovery of new continents and bringing back unusual flora, fauna and artefacts. Around the world, memorialisation of Cook in statues, plaques and place names is extensive. There's also the story of the transportation of Cooks' Cottage to Australia and wider consideration of Cook's role in establishing Australia's identity.
Cook had married a Wapping girl, and they lived at Shadwell before taking the house in Mile End Road. Near to the "Prospect of Whitby" pub is the church where Cook was an active parishioner – St. Paul's Shadwell. It's traditionally known as the Church of Sea Captains. Outside you'll find a board with a full roll of honour, including Cook's name.
In Cook's time, the Mile End dwelling was a comfortable small house in a region that still retained a rustic feel. During this time the address was known as 7 Assembly Row. After Cook was killed in Hawaii, Mrs Cook lived in the Mile End house for many years.
Across the Thames from Shadwell is Deptford, once a great shipyard where Cook's ships were fitted out. The great river has seen some great men, but none greater than Cook.

Slate plaque affixed to a brick wall on the site of 88 Mile End Road
Plaque Inscription:
The Left Section:
He surveyed the
Saint Lawrence River in 1759
In Three voyages 1768-1779
he charged the coasts of New Zealand,
the East Coast of Australia
and the Pacific Coast
of North America
The Centre Section:
On this site
stood a house occupied
for some years by
CAPTAIN JAMES COOK R.N. F.R.S.
1728 – 1779
Circumnavigator and Explorer
The Right Section:
Erected by the
Greater London Council
to commemorate
the bicentenary of his
landing at Botany Bay
New South Wales
29th April 1770